Day 2 was neat.
WHAT HAPPENED IN KEYNOTE
Nothing new at least for this conference, reactive, reactive and more reactive. Rossen Stoyanchev and Stephane Maldini.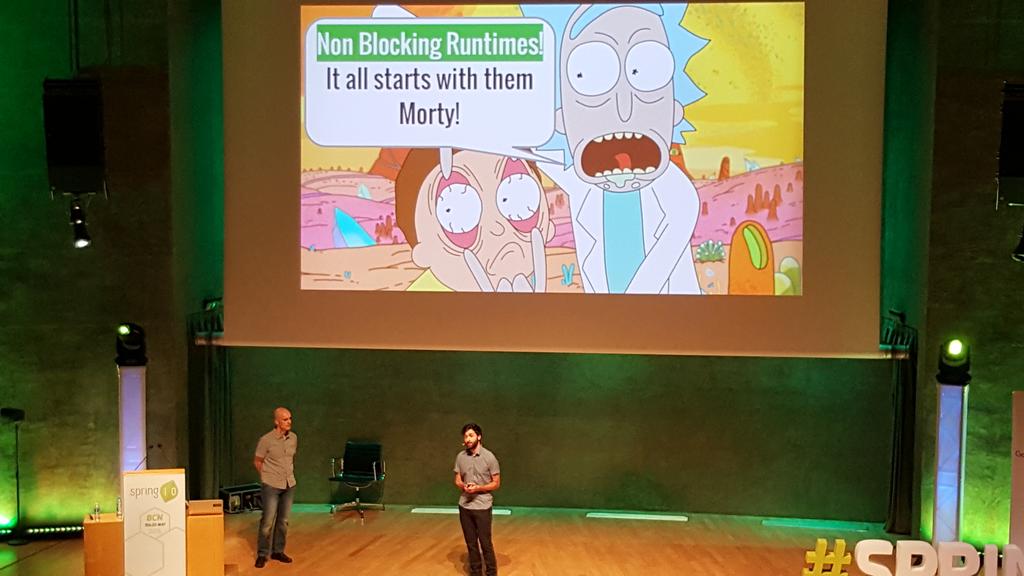 FROM IMPERATIVE TO REACTIVE by ROSSEN STOYANCHEV
Rossen Stoyanchev presented how Reactor project will impact the Spring Core. How a repository (Spring data) will look like etc.
After his talk there were questions from the attendees on ThreadLocal(s) (how they will be handled?) and this is a issue to be addresed soon(See comments at https://spring.io/blog/2016/02/09/reactive-spring from a few months ago).
I also got the chance to ask him a couple of questions on web-socket support (they will provide reactive streams support for web-sockets) and netty support on Spring Boot (already exists will become more known in the next Boot releases).
Loved his talk.
LIVING ON THE EDGE (SERVICE): BUNDLING MICROSERVICES TO OPTIMIZE CONSUMPTION FOR DEVICES WITH SPRING CLOUD & NETFLIX OSS by MARK HECKLER
Mark Heckler is a great guy and I had a lot of fun on his talk.
He basically showed us around the Spring Cloud stack Zuul, Config Server, Eureka, Hystrix. I already know my way around Spring Cloud but it is always nice to validate that you are on the right track.
DISTRIBUTED TRACING: HOW TO FIND LATENCY IN PRODUCTION SYSTEMS by DAVE SYER
Dave Syer is quite a figure in the Spring ecosystem so I was really excited about his talk.
He presented Spring microservices with Zipkin. Zipking helps gather timing data needed to troubleshoot latency problems in microservice architectures.
SPRING INTEGRATION WITH SPRING BOOT AND RABBITMQ by GARY RUSSELL
Gary Russel is another great figure in the Spring ecosystem. Cool presentation on Spring Integration and how easy it is to integrate Rabbit MQ (maybe to scale a flow step or something).
He also hacked a UI to display Spring Integration Components but that's something not available for the general public anywhere (any branch or even in the roadmap), that feature would totally worth it for Spring Integration.
CONTINUOUS DELIVERY OF MICROSERVICES USING JENKINS AND GRADLE ALEX SOTO
Alex Soto from CloudBees. An intensive presentation with a lot of code snippets but not at all tiring how to use on Jenkins 2 and gradle to build Microservices Continous Delivery.
Software is eating the world, so let's do it the right way.
Because of his talk I am definitely looking into Jenkins 2 (been using less than version 2) but I am not bought on gradle :p (personal opinion)
links:
http://www.slideshare.net/asotobu/continuous-delivery-as-code
BUILDING A MEETUP RECOMMENDATION ENGINE WITH SPRING DATA NEO4J SVEN JANKO
I am bought on graph databases, but I still haven't had the chance to use them. Neo4j seems promising and has a nice integration with Spring Data. Will definitely get my hands "dirty" with it.
Conclusion
There's more I could have written and there were times that I felt I would gladly clone myself to attend all of the talks and workshops.
The workshops were totally worth it but sadly they were not recorded.
Since this was a Spring oriented conference, the main points were
if you are using Spring then prepare your codebase for Reactive and
start using Http2(if you are still not doing it).
KEYNOTE – DESIGNING APPLICATIONS: THE REACTIVE WAY ROSSEN STOYANCHEV AND STEPHANE MALDINI
FROM IMPERATIVE TO REACTIVE ROSSEN STOYANCHEV
SPRING ROO 2.0 PREVIEW ENRIQUE RUIZ & CÉSAR ORDIÑA
http://www.slideshare.net/disid/spring-roo-20-preview-at-spring-io-2016
TEST-DRIVEN DOCUMENTATION WITH SPRING REST DOCS ANDY WILKINSON
SPRING CLOUD MICROSERVICES, A JOURNEY INSIDE A FINANCIAL ENTITY TONI JARA AND JORDI GIL
40 TIPS & TRICKS FOR SPRING IN INTELLIJ IDEA YANN CÉBRON AND STÉPHANE NICOLL
KEEP CALM AND PUSH APPS-AAS SERGIU BODIU
DEVOPS WITH DOCKER THAT SMELLS GOOD AND FEELS GOOD ANTONS KRANGA
UNDERSTANDING MICROSERVICE PERFORMANCE ROB HARROP
SPRING 4 WEB APPS AND BEYOND ROSSEN STOYANCHEV
LIVING ON THE EDGE (SERVICE): BUNDLING MICROSERVICES TO OPTIMIZE CONSUMPTION FOR DEVICES WITH SPRING CLOUD & NETFLIX OSS MARK HECKLER
SPRING BOOT AND CLOUD FOR LEGACY APPLICATIONS MARTEN DEINUM
https://speakerdeck.com/mdeinum/spring-boot-and-spring-cloud-for-legacy-application-1
DISTRIBUTED TRACING: HOW TO FIND LATENCY IN PRODUCTION SYSTEMS DAVE SYER
ANGULAR 2 FOR SPRING DEVELOPERS SERGI ALMAR
BUILDING FULL-STACK WEB APPS WITH SPRING BOOT AND VAADIN MATTI TAHVONEN
GET HATEOAS AND HYPERMEDIA RIGHT WITH SPRING EUGEN PARASCHIV
SPRING INTEGRATION WITH SPRING BOOT AND RABBITMQ GARY RUSSELL
SPRING CLOUD CONFIG SERVER: EXTENDING IT AND IMPLEMENTING IT (OR FOR THE GIT CROWD: INITING AND PUSHING IT) CLINT CHECKETTS
TESTING SPRING BOOT APPLICATIONS PHIL WEBB
CONTINUOUS DELIVERY OF MICROSERVICES USING JENKINS AND GRADLE ALEX SOTO
http://www.slideshare.net/asotobu/continuous-delivery-as-code
RAML – SPECIFICATION TO MANAGE THE API LIFECYCLE FÁTIMA CASAÚ
HANDS-ON WITH KUBERNETES – FROM BASIC TO ADVANCED FEATURES RAY TSANG
CLOUD-NATIVE STREAMING AND EVENT-DRIVEN MICROSERVICES MARIUS BOGOEVICI
https://speakerdeck.com/mbogoevici/cloud-native-streaming-and-event-driven-microservices
BUILDING A MEETUP RECOMMENDATION ENGINE WITH SPRING DATA NEO4J SVEN JANKO
USING SPRING WITH SCALA BERNHARD WENZEL